Overseas during the referendum? Plan your vote now
Updated: 14 September 2023
The Australian Electoral Commission is reminding people who will be overseas during the upcoming referendum to plan their vote now.
A list of 107 overseas voting centres for the 2023 referendum was published last week with postal voting or voting at an early voting centre prior to departure also options that are available.
Australian Electoral Commissioner Tom Rogers said the service provision for people overseas is the most that has ever been provided for a federal election or referendum in Australia's history.
"Voting in-person overseas is a great touchstone for Australians living and travelling overseas and I'm pleased and very proud to see our service provision is larger than ever," Mr Rogers said.
"This would not have been possible without the strong ongoing co-operation between the AEC and its partners - the Department of Foreign Affairs and Trade and Austrade."
In-person voting overseas
While any polling service is always subject to change, the list published shows 107 in-person voting locations available across 78 countries – a significant increase from the 2022 federal election conducted during COVID-19 restrictions.
"We're encouraging people to plan their vote now and the first step for that is to ensure you're enrolled before the enrolment deadline at 8pm on Monday." Mr Rogers said.
"Overseas voting centres will be available during the early voting period, which commences on Monday 2 October and will run within the two-week period leading up to referendum day."
"Please keep in mind that the opening dates and times will vary and this voting information is being published by each overseas centre progressively as arrangements are finalised."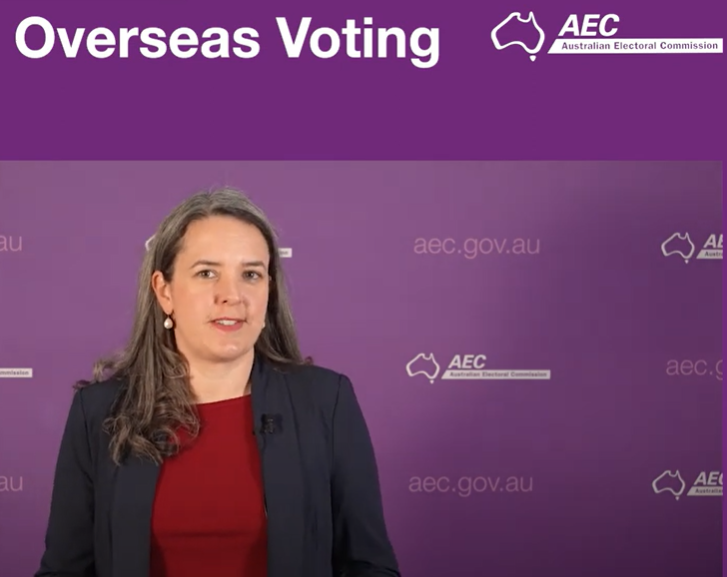 AEC TV video: Overseas voting for the 2023 referendum
Postal voting
If an Australian overseas is unable to vote at one of the in-person voting locations, they can apply for a postal vote.
Postal votes overseas will have fast-tracked arrangements in place where possible, using point-to-point couriers for dispatch and diplomatic mail for return. This was done for the first time during the 2022 federal election and will continue for the referendum regardless of the increase to in-person voting centres.
"We don't control or operate overseas postal services – we do everything in our power to facilitate a voting service for people around the world but are conscious that for some people this just won't be possible," Mr Rogers said.
"If you're close to an in-person overseas voting centre then my advice would be to cast your vote in-person. If you're applying for a postal vote, do it as soon as you possibly can to provide the best chance for your ballot paper to get to you overseas in time for voting day."
Being overseas is a valid reason for not casting a vote in the 2023 referendum.
Media resources: