Enrolment advice for voters affected by Optus data breach
Updated: 29 September 2022
Enrolled voters who obtain a new driver's licence or passport number as a result of the recent Optus data breach will not need to update their electoral enrolment.
Electoral Commissioner Tom Rogers said the announcement provides certainty for voters affected by the data breach.
"We know that electoral enrolment won't be front of mind for somebody affected by a data breach, and for the vast majority of voters it won't have to be at all," Mr Rogers said.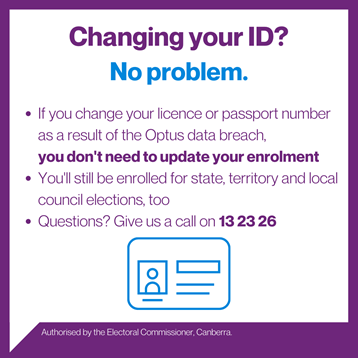 "The AEC regularly receives licence and passport information from our partners in federal, state and territory governments, which means a change to your licence or passport number will not affect your enrolment."
This advice also applies to enrolment for state, territory and local council elections, for which the AEC maintains the national electoral roll.
A person who is eligible to vote but not enrolled, and who obtains an updated driver's licence or passport, may receive a letter from the AEC prompting them to enrol.
If you believe that your or your family's safety could be at risk as a result of the data breach, please call the AEC on 13 23 26 to discuss your enrolment options.
Editor's notes