Significant boost to First Nations enrolment announced
Updated: 1 September 2022
The Australian Electoral Commission has today released new enrolment figures that show the highest ever level of estimated enrolment for Indigenous Australians of 81.7 per cent.
Deputy Electoral Commissioner, and AEC Indigenous Champion, Jeff Pope said that while there is clearly still a lot of work to do to close the gap, the past year has seen the biggest annual increase in estimated Indigenous enrolment rates on record.
"Every line on every graph is going up," Mr Pope said.
"That continued year-on-year growth in Indigenous enrolment is inarguably good news, and especially the increased rate of growth we've seen in the past year."
"These increases mean the estimated number of eligible Indigenous Australians who are not enrolled has decreased by 18 per cent in the past five years."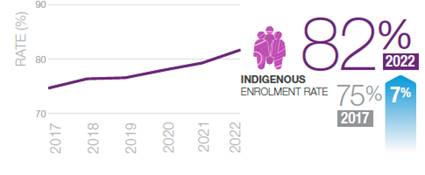 "While incredibly positive, the release of these statistics is also a reminder of the further work we at the AEC, and other Australians, have ahead of us."
"The federal government has indicated a proposed federal referendum will be held in 2023 and all eligible Australians should be enrolled and ready to vote in order to have their say."
AEC enrolment efforts
The AEC's Indigenous Electoral Participation Program (IEPP) has established more than 80 community partnerships that help to provide education about the electoral system and increase enrolment for Indigenous Australians and Australians living in remote areas.
"Indigenous enrolment is a generational challenge with many factors beyond just the AEC of course," Mr Pope said.
"Everyone wants enrolment rates to go up swiftly, but meaningful participation in the electoral process takes time and is about more than just the transaction it takes to be enrolled."
"Our partnership model of engaging in communities, and listening to local elders and community leaders, aims to see us communicating in ways that resonate."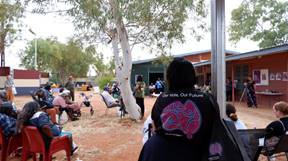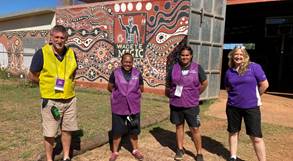 The AEC is also commencing a trial that could potentially extend the effectiveness of direct enrolment processes in remote communities in Western Australia, Northern Territory and Queensland.
"Direct enrolment is when we are able to use trusted third party data to enrol people without them having to initiate the transaction," Mr Pope said.
"This requires notification to the individual of the enrolment action we're proposing to take, and with enrolment bound to a physical address it is something that has proven challenging in remote communities."
"The trial will involve notifying people living in remote communities of direct enrolment action via email and community mail boxes for the first time, and assessing the effect this has on enrolment rates and accuracy."