AEC returns writs for 2022 federal election
Updated: 24 June 2022
The Australian Electoral Commission has advised that the Writs for the 2022 Federal Election have now been returned.
Electoral Commissioner Tom Rogers said the return of writs marks the completion of the most complex and challenging election in Australia's history.
"The 2022 Federal Election has once again shown Australians leading the way with democratic community spirit, and electoral fairness and process, allowing the nation to move forward into the new term of Parliament with confidence in the results," Mr Rogers said.
"The AEC pulled out all the stops to deliver a Federal Election, despite COVID conditions, that met the high standards Australians expect in terms of electoral transparency, security and accuracy."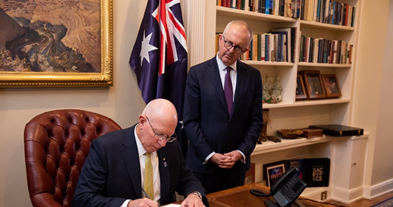 Governor-General, David Hurley and Australian Electoral Commissioner, Tom Rogers signing the writs.
Writs for all 151 House of Representatives elections, and for the Senate elections in the Australian Capital Territory and the Northern Territory, were returned to the Governor-General, His Excellency General the Honourable David Hurley AC DSC (Retd).
Writs for Senate elections in all states have been returned to State Governors throughout the week.
Mr Rogers highlighted the work of community members in delivering the Federal Election for all Australians.
"The election belongs to Australians, not the AEC, and this year's would not have been possible without the 121,000 community members who put their hands up to work for us," Mr Rogers said.
"They worked long hours in a challenging COVID environment and powered on through the lengthy election process."
All 2022 federal election results are available in the AEC's tally room.