AEC update: The day after
Updated: 22 May 2022
An enormous, unprecedented effort by the community
The Australian Electoral Commission today thanked the 105,000-strong temporary election workforce on deck yesterday for their dedication to delivering democracy to their fellow community members.
Electoral Commissioner Tom Rogers said that election day, in a pandemic election, posed challenges never seen before in Austraian electoral history.
"I'm so incredibly buoyed, and proud, of the way Australians come together on a day like yesterday – a massive national event all designed and conducted to help  Australians have their say." Mr Rogers said.
"Some polling places had fewer staff than planned due to COVID and flu impacts, and polling officials worked long days but the team rallied together to collect the votes and get through the election night count – delivering an election night result to Australia once again."
"It is also incredibly pleasing that the vast majority of Australians reported a smooth voting experience, including secure telephone voting for people in isolation with COVID-19."
What happens today?
Today is another busy day but one that consists of mostly logistical arrangements with only small updates to results expected on the tally room.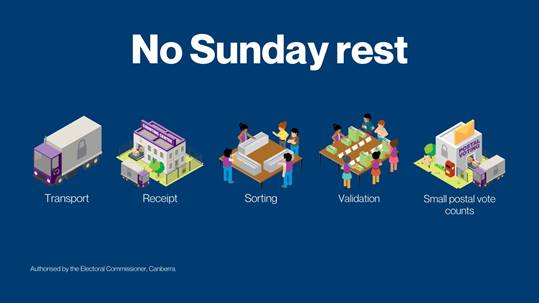 "We'll have small postal vote counts appearing in the AEC tally room throughout the day, starting from this morning," Mr Rogers said.
"Postal vote counts started on the Tuesday after election day in 2019 but we've brought that forward in recognition of the large volume and our ability this election to sort them earlier than in the past."
"These indicative postal vote counts early in the count period can provide an important trend for analysts."
Editor's notes: