Federal election update
Updated: 20 May 2022
On this page:
Regional staffing concern reduced significantly
The AEC's efforts to address regional staffing shortfalls that were announced on Wednesday have yielded significant gains with one day to go before election day.
Electoral Commissioner Tom Rogers said that the election day polling venues currently identified to be of concern had decreased from 76 to 15.
"This is an unalloyed good news story of community members stepping up for democracy in a pandemic but it's not at all a clear runway – that's not how running an election in a pandemic works," Mr Rogers said.
"Our efforts to engage army reservists, public servants, local councils, police services, job seekers, education departments and others will mean that many regional voting centres with no confirmed staff two days ago will now be able to open."
"We couldn't be more appreciative to the more than 7,000 people who've put their hand up to work in these regional areas of need in the past 72 hours".
"The absolute vast majority of the 7,000 election day polling places will be in operation and we're continuing to work as hard as possible to staff the remaining 15 venues of concern."
The voting centres that are currently at risk are listed at the bottom of this media release.
Staff furloughing due to COVID-19
This election the AEC is facing staffing difficulties that are also being experienced by many other frontline services across health, emergency services and others.
"For the past week we've been working hard to assign temporary staff to election day roles quicker than we've been losing them to COVID-19," Mr Rogers said.
"Our 105,000 strong workforce across Australia has had approximately 10-15 per cent turnover in the past week alone and this risk will continue right up until 8am tomorrow."
"As a result some polling places will operate on reduced staffing and queues are inevitable – we plead for patience and, above all, kindness to the everyday Australians working the booths who have stepped up to ensure the doors open in their community."
Biggest single day of pre-polling in Australia's history
With one day to go more than 4.6 million Australians have voted at an early voting centre, which is on track to easily eclipse the 2019 total of 4.7 million and set a new record.
The total number of postal vote applications is 2.73 million and more than 25,000 people have voted with an AEC mobile voting team. This means a combined 7.35 million people have accessed voting services ahead of election day, with one day to go.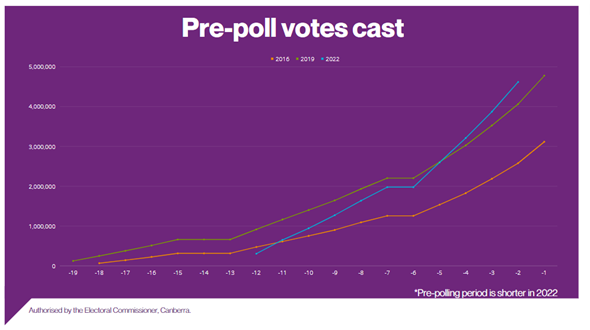 Telephone voting
Telephone voting for people who have tested positive to COVID-19 commenced on Wednesday evening. Only people testing positive after 6pm on Tuesday are able to access the service, in line with the timeframe set out in regulations the AEC must follow.
"There has been a lot of discussion about the telephone voting service provision and we not only understand people's passion for democratic participation but live and breathe it every day," Mr Rogers said.
"The telephone voting service was legislated by Parliament as an emergency measure for individuals who had no other voting option once postal vote applications closed at 6pm on Wednesday."
"The AEC cannot change the eligibility criteria but have certainly heard the concerns expressed by members of the public who tested positive to COVID-19 prior to 6pm on Tuesday and had not cast an early vote or applied for a postal vote."
"We have analysed the service's take-up so far, our staffing levels and forecasts for use, and are in urgent discussions with Government about the concerns expressed by members of the public."
"This morning I have signed a brief recommending for the eligibility for the service be expanded."
Polling places of current concern
| | | |
| --- | --- | --- |
| Queensland | South Australia | Western Australia |
| Kowanyama | Coonawarra | Hyden |
| Karumba | Jervois | Pannawonica |
| | Arno Bay | Paraburdoo |
| | Georgetown | Broomehill |
| | Wirrulla | Coolgardie |
| | | Hopetoun |
| | | Meekatharra |
| | | Newdegate |