Last call: Candidate nominations closing
Updated: 20 April 2022
Anyone wanting to run for the House of Representatives or Senate in the upcoming federal election must nominate before tomorrow's midday deadline.
It is important for intending candidates to not just meet the nomination deadline but complete all the requirements, including the mandatory candidate qualification checklist.
The process differs slightly depending on whether the candidate is representing a registered party or running as an independent. All the information for intending candidates is outlined clearly on the AEC's candidate information hub.

Media invite: Candidate announcements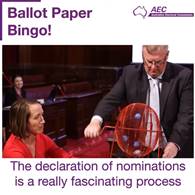 Video:
Ballot paper bingo
The AEC will formally announce candidates and determine the order on ballot papers at public events held across Australia at midday on Friday 22 April.
The event involves a blindfold, numbered balls and what is effectively a double-randomised 'bingo' system to keep the process fair.
Locations: Declaration of nominations events
Requirements: Media planning to attend must advise the AEC's media team ahead of time. 
Publishing the details
The final number of candidates, and full candidate lists in ballot paper order, will be made available on the AEC website (and tweeted) on the evening of Friday 22 April, once all data has been able to be inputted and verified.
Candidate qualification checklists will also be available on the AEC's website in the days that follow.
Editor's notes: