AEC encouraging Indigenous Australians to enrol now!
Updated: 11 April 2022
All Australians have until 8pm on Monday 18 April to enrol to vote and the AEC is today urging Aboriginal and Torres Strait Islander people to use this week to build on recent Indigenous enrolment growth.
Electoral Commissioner Tom Rogers said that time is running out to ensure Indigenous Australians can make their voice heard this federal election.
"The number and percentage of Indigenous Australians on the electoral roll has never been better, but this week is a great opportunity for a significant increase in our estimated indigenous enrolment rate. We are absolutely committed to closing the enrolment gap. " Mr Rogers said.
"We've worked hard to achieve what has been year-on-year growth recently that has not only outstripped the broader national enrolment rate but the growth in the population of Indigenous Australians as well."
"The estimated rate of Indigenous enrolment nationally is around 80 per cent, up from 75 per cent five years ago – that's brilliant but still not as high as anyone wants it to be and time is nearly up for 2022.  "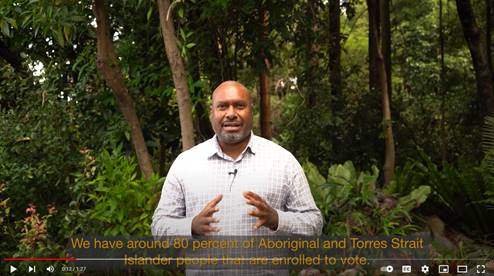 AEC TV video: Indigenous participation
Communication resources
The AEC is continuing to utilise more than 70 active engagement partnerships across Australia to increase Aboriginal and Torres Strait Islander understanding of the electoral system and enrolment.
"We've pivoted to a partnership model some time ago and Indigenous enrolment trends suggest it's working but now is the time for more than that, for people to really talk to their family and members of their community to ensure others around them are enrolled," Mr Rogers said.
"We've got a range of digital materials people can share including in-language videos and our Indigenous Electoral Participation Facebook page."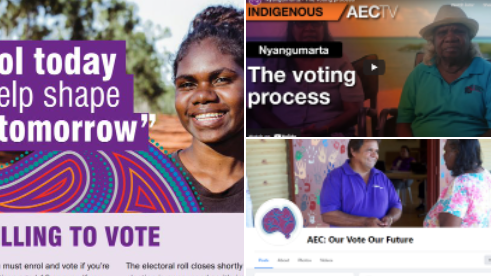 Products: Go to aec.gov.au/indigenous  
Employment opportunities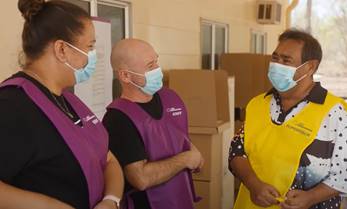 It's not just about enrolment and voting, we're also advertising at the moment to encourage Aboriginal and Torres Strait Islander people to work for us at the upcoming federal election.
We have over 500 dedicated positions for Indigenous Australians and there are still vacancies. We also want as many Indigenous Australians working at as many polling places as possible.
Anyone who is interested can apply on the AEC website now.  
Voting services
The AEC is also well advanced on the final stages of planning for remote mobile polling activities in remote Indigenous communities. We will be delivering more polling hours to remote communities than ever before.
"Each election we use 4WDs, light planes, helicopters and occasionally barges to get into remote communities with as few as twenty enrolled voters," Mr Rogers said.
"It is an extraordinary effort and something quite unique to Australia with our remote voting teams covering millions of square kilometres – we've got schedules getting locked in now and logistical arrangements being finalised."