It's on: We're ready, are you?
Updated: 10 April 2022
The 2022 federal election has been announced for Saturday 21 May 2022. Following the announcement, the Australian Electoral Commission has immediately sprung into action to activate its planned workforce, resources and COVID-19 safety measures.
Electoral Commissioner Tom Rogers said while the impact of the continuing pandemic adds complexity to conducting what is already Australia's largest peacetime logistical exercise, Australian voters can have confidence in the voting options available this election.
"We'll be operating hundreds of early voting centres and thousands of polling places on election day, and Australians can feel comfortable to vote in-person," Mr Rogers said.
"While elections are in-person community events and we expect voters to turn out, Australians who need a postal vote can now apply for one,"
"The immediate priority for all Australians is to go to the AEC website to check your enrolment and make sure it is up to date by Monday 18 April. If you're not enrolled, you can't have your say"
COVID safety measures
The various COVID-19 safety measures that go into the conducting this federal election have long been a priority for the AEC.
"We've been planning the many and various scenarios of running a federal election with COVID-19 safety measures in place since the pandemic began, and we've run two federal by-elections in that time as well," Mr Rogers said.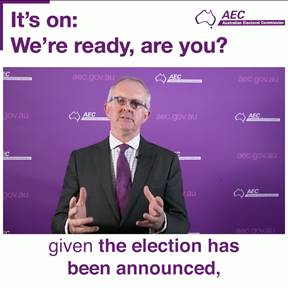 "We've been in regular contact with federal, state and territory health departments regarding our planning and have learnt valuable lessons from recent elections run both here in Australia and internationally."
"Many of the safety measures in place are things that Australians will be very familiar with by now – social distancing, the use of hand sanitiser and the work of our hygiene officers at every polling place."
"We are committed to the safety of our temporary polling staff and voters who visit a voting centre this federal election."
Key information and dates
Find a range of statistics, procedural information and media resources in the 2022 federal election media reporting guide.
Images
A range of images like the below are available for use on the AEC's Flickr account.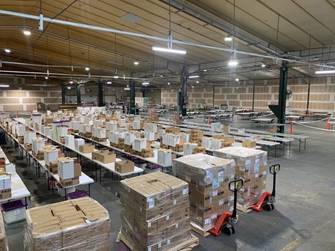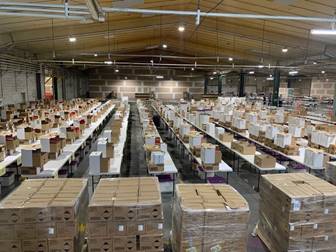 Election materials at an AEC warehouse in South Australia, ready to be distributed for the federal election.