AEC 'says hi' to half a million potentially unenrolled Australians
Updated: 28 January 2022
The AEC has today begun contacting approximately 560,000 Australians who are potentially not on the electoral roll.
Electoral Commissioner Tom Rogers said that despite Australia consistently having one of the highest enrolment rates in the world, there are hundreds of thousands of Australians in danger of missing out on their say in the 2022 federal election.
"At the moment, more than 17 million eligible Australians are enrolled – more than 96 percent of the eligible population - and we're doing everything we can to make that figure even higher for the 2022 federal election."
"Since the previous federal election in 2019, we've sent more than 5 million texts and emails to remind people to take enrolment action, and we're now contacting another half a million eligible Australians."
"This is of course on top of the 1.5 million enrolment transactions we have processed in the past year alone."
Visit aec.gov.au to enrol or to update your enrolment. Remember that enrolment and voting are compulsory.
State of play:
More than 96 percent of eligible Australians are estimated to be enrolled to vote.
"We have one of the highest rates of enrolment in the world and it has stayed remarkably high in between elections – it is a credit to Australians and an incredibly strong foundation for democratic participation."
"We're always looking to boost that number though, especially with a federal election coming up in the next few months."
"It's not just about being enrolled either, it has to be current – if you've moved house recently or changed your surname don't delay, update your enrolment now."
2021 enrolment transactions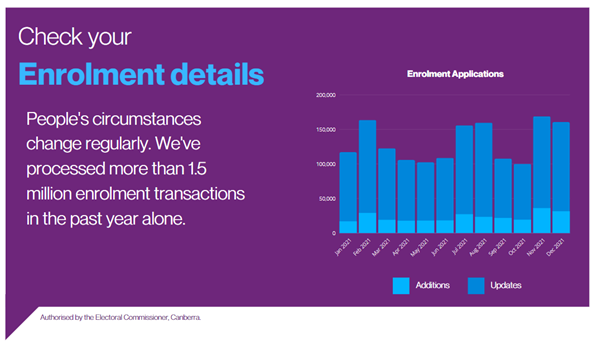 Enrolment rate over the past decade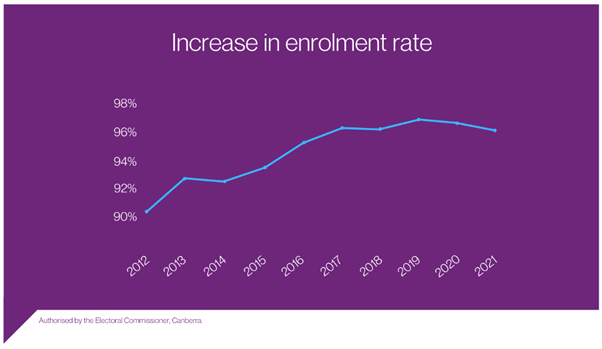 Editor's notes:
A combined House of Representatives and half-Senate election must be held by 21 May 2022.
Once a federal election is announced there is generally a week before the enrolment deadline.
Find Enrolment statistics available via the AEC website
Images/footage - go to the AEC's Flickr account or contact us