Happy election year! Be ready - update your enrolment now
Updated: 04 January 2022
The AEC is asking all eligible Australian voters if they're ready for the 2022 federal election by urging them to check their enrolment.
Electoral Commissioner Tom Rogers said the new year break many Australians are having now is the perfect time to make sure you're election ready.
"The federal election will be held sometime in the next few months and it only takes a few minutes on your smartphone to ensure you're ready to vote," Mr Rogers said.
"Go to aec.gov.au now to enrol, update your enrolment details or just to check that you're ready to vote when the time comes."
State of play:
More than 96 percent of eligible Australians are estimated to be enrolled to vote.
"We have one of the highest rates of enrolment in the world and it has stayed remarkably high in between elections – it is a credit to Australians and an incredibly strong foundation for democratic participation."
"We're always looking to boost that number though, especially with a federal election coming up in the next few months."
"It's not just about being enrolled either, it has to be current – if you've moved house recently or changed your surname don't delay, update your enrolment now."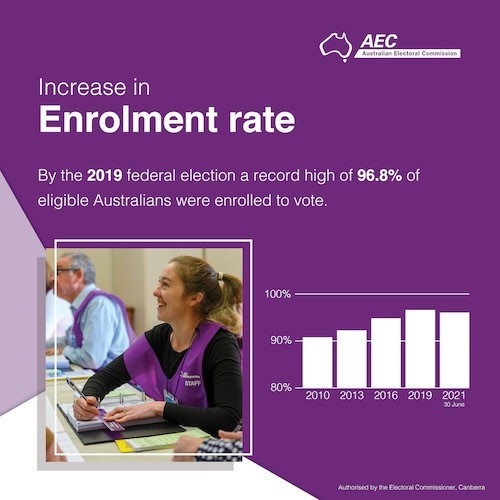 Editor's notes: