AEC statement: Disinformation emails
Updated: 3 July 2020
The AEC is aware of action recently taken by the Australian Federal Police in relation to a series of spam emails circulated regarding the Eden-Monaro by-election.
The AEC takes this matter, and all electoral integrity matters, very seriously. The AEC initially referred the matter to the Electoral Integrity Assurance Taskforce for consideration on 10 June 2020 and has continued to provide evidence to support the investigation.
The Australian Federal Police – a member of the Taskforce – is the lead agency on this matter and the AEC will not be providing any further comment.
Editor's notes:
Electoral Integrity Assurance Taskforce
The Electoral Integrity Assurance Taskforce is a network of Federal Government agencies that provide guidance and expertise on a broad range of issues within the Australian electoral environment. 
The Taskforce was first in place for the federal by-elections held in 2018 and again for the 2019 federal election. The Taskforce is again operating for the 2020 Eden-Monaro by-election.
AEC Stop and Consider campaign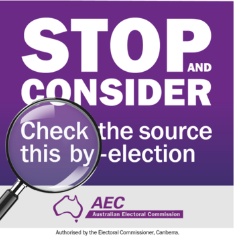 The AEC has been running a social media advertising campaign in the division of Eden-Monaro branded 'Stop and Consider'.
Advertisements have been running across Facebook, Twitter and Instagram from the start of the by-election period and will continue up until by-election day, Saturday 4 July.
This campaign, which was also conducted for the 2019 Federal Election, is to remind Eden-Monaro voters of the importance of considering the source of electoral information.