Information about working in the AEC
When you join the AEC, you join a team of passionate professionals committed to giving Australians a voice through our democratic processes. The AEC is a smaller agency that allows the development of stronger connections with your colleagues and networks. We all work towards a shared goal of delivering an impartial and independent electoral system that is safe, efficient and precise. To ensure a consistent and accurate process we provide comprehensive training programs to continue to develop our people and implement ongoing improvements.
Conditions of employment
The terms and conditions for all APS employees engaged at the AEC are specified in the AEC Enterprise Agreement 2016–2019. This agreement provides a range of flexible work conditions including:
a standard working week of 37½ hours
flex time under which you can use extra time worked to take time off work
15.4% superannuation
annual and personal leave that covers a range of circumstances
the opportunity to purchase extra leave per year
office shut down between Christmas and New Year
Flexible work environment
Employees in the AEC enjoy a flexible workplace that supports healthy work/life harmony. The following options are available to assist employees in balancing their work and personal lives and ensure a supported environment.
flexible start and finish times, subject to operational requirements
opportunities to work part-time
flexible working arrangements, such as working from home
purchased leave, which allows employees to purchase leave that may be used to fulfil family commitments/responsibilities
maternity and paternity leave
personal leave for carers purposes, and
confidential access to the AEC's Employee Assistance Program
Values and code of conduct
The AEC is committed to the APS Values and Code of Conduct contained in the Public Service Act 1999. The AEC Standard of Conduct incorporates the APS Values and Code of Conduct which were created to ensure, among other things, that all employees in the APS work in an environment that allows them to reach their full potential.
In addition to the APS Values, the AEC values electoral integrity through quality, agility and professionalism. These values frame and guide how we work and underpin everything we do.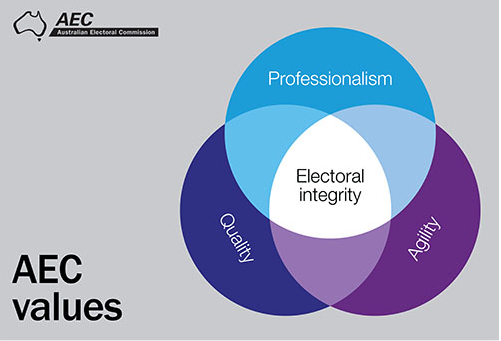 Child Safety Policy
The AEC is committed to the safety and protection of the children and young people we serve. The AEC's Child Safety Policy outlines the AEC's principles and processes for providing a safe environment for children and young people in all of our offices and business operations, and most pertinently at the National Electoral Education Centre (NEEC) located at Old Parliament House, Canberra.
Additionally, the AEC's Child Safe Policy:
informs AEC staff of their obligations to act ethically and responsibly towards children and young people at all times
is designed to demonstrate and monitor the AEC's compliance with the Commonwealth Child Safe Framework. The AEC also publishes an annual statement of compliance with this Framework.
Work health and safety
The AEC is committed to ensuring the health, safety and welfare of its employees while at work in accordance with the Work Health and Safety Act 2011. The AEC takes proactive and positive steps to protect and promote the health and safety of its employees whilst at work, using its facilities, or while on AEC premises.
The AEC has a range of initiatives to support employees such as:
wellness corner
employee assistance program
flu vaccination program
ergonomic workstation checks and adjustable workstations
Political neutrality
The AEC places special emphasis on political neutrality because it is responsible for providing the Australian people with an independent electoral service.
It is essential that all AEC employees are, and are seen to be, politically neutral.
All AEC staff, both permanent and temporary are required to provide a declaration of political neutrality which is designed to ensure that there is no conflict of interest before they are considered for employment. Having had a party affiliation at some time in the past does not automatically rule someone out but all staff are required to behave neutrally and face instant dismissal if they do not.
See Also
Updated: 21 June 2021