Our campaign to increase Indigenous enrolment
Any election or referendum is a moment for every Australian to consider their vote and their future.
The AEC's most recent communication campaign to increase Indigenous enrolment started in November 2021 with intermittent phases planned through to February 2024. It aims to build on the work conducted through similar previous AEC campaigns and the operations of the AEC's Indigenous Electoral Participation Program for the past 10+ years.
Purpose
Indigenous enrolment is currently estimated to be around 84.5 per cent nationally. This compares to an overall national enrolment rate of more than 97 per cent. The AEC has always looked at who may not be enrolled to vote and communicated accordingly. A reasonable proportion of the 500,000+ eligible people estimated not to be enrolled consists of young Australians and Indigenous Australians. Having a complete electoral roll, with all sections of society represented to the fullest extent, is the very foundation of a healthy democracy and the heart of an effective electoral process.
This latest campaign was funded by the previous federal government, prior to the 2022 federal election. It is part of the bi-partisan direction provided to the AEC by Parliament to communicate, and undertake other activities, to further increase Indigenous enrolment for the referendum and future federal elections.
AEC enrolment campaigns are part of the AEC's legislative obligations under the Commonwealth Electoral Act 1918 to communicate about election events and services, as well as maintain an electoral roll that is as accurate and complete as possible.
The design features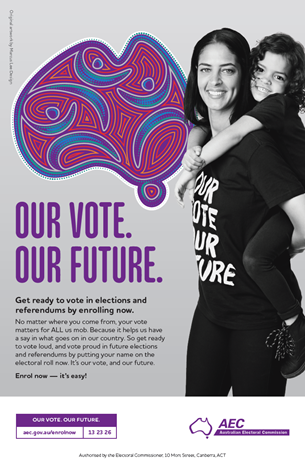 The campaign features the artwork and slogan of the Indigenous Electoral Participation Program – phrasing and imagery that has been used by this program since 2013. Stills and videos in the campaign are supported by research as being effective in engaging Indigenous Australians in the subject matter in order to increase enrolment.
Video content – including the artwork and slogan - is very similar to what has been used in AEC communication during the 2016, 2019 and 2022 federal elections.
The channels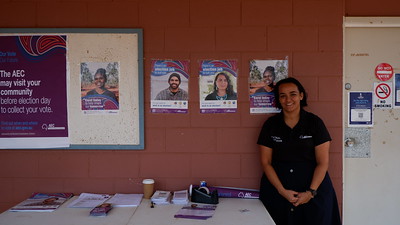 This campaign is targeted to channels that are commonly frequented by Indigenous Australians in recognition of lower rates of Indigenous enrolment. This is the same methodology that is applied to the AEC's enrolment communication targeted to youth, who are also less likely to be enrolled to vote than the overall eligible Australian population.
Channels for communication during this campaign were informed by recommendations by industry experts. It has included video across TV (e.g. NITV), social and online, and Aboriginal Health Television (AHTV), regional and remote radio, press placement in the national First Nations press - the Koori Mail, and regional press – Torres News and Mulga Mail. The AEC is also communicating in-person in remote Indigenous communities through partnerships and the work of AEC officers.
The first phase of the campaign resulted in a significant increase of traffic to the AEC website's Indigenous engagement page. In the week prior to the campaign (22 – 26 Nov) there were 260 page views. Over the four week period of the first phase of the campaign (27 Nov – 24 Dec) there were over 40,000 page views with a further 75,000 page views in the first month of phase two.
Referendum communication campaigns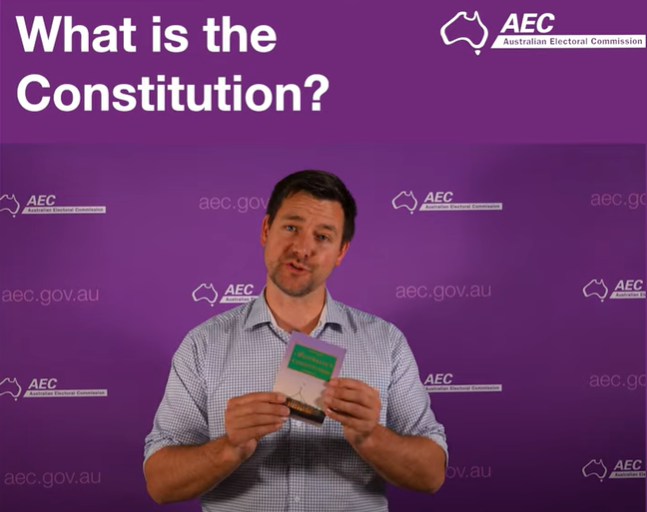 The 2023 referendum is an event for all Australians to make a decision. Regardless of the topic, an election or referendum is a moment for everyone to consider their vote and their future.
In addition to the enrolment campaign for Indigenous Australians, the AEC is already in market with advertising seeking to educate all Australians about referendum processes. This will increase once enabling legislation for the 2023 referendum pass through Parliament with a campaign that includes further multimedia channels. This advertising campaign, and it's continuation into the referendum period, will utilise a design consistent across all targeted audiences.
The AEC also communicates in-language with fact sheets and other information translated into 34 culturally and linguistically diverse audiences.
---
Page header artwork by Marcus Lee Design.