AEC Electoral Integrity Journey
The AEC has always sought to build and maintain electoral processes that are secure and reliable, with a long history of delivering federal election results Australian voters can trust. The 2014 introduction of the AEC's current values placed electoral integrity more firmly at the heart of everything we do and is supported by the agency's values of professionalism, agility and quality.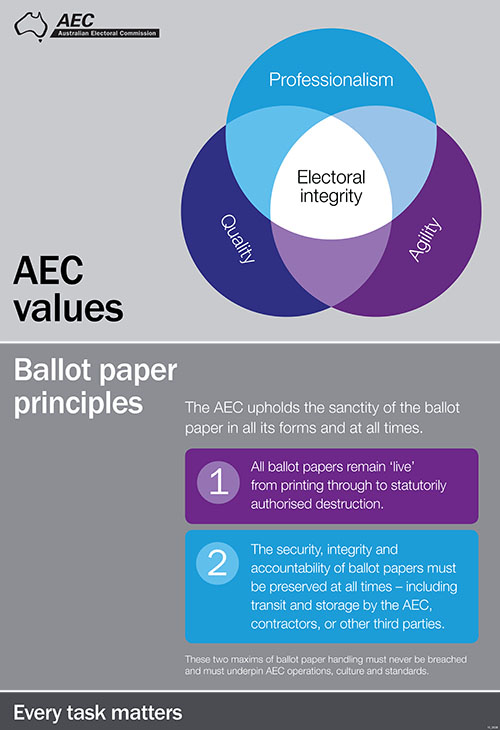 Timeline
The below timeline shows the AEC actions taken throughout the past three electoral cycles to increase electoral integrity in the Australian vote.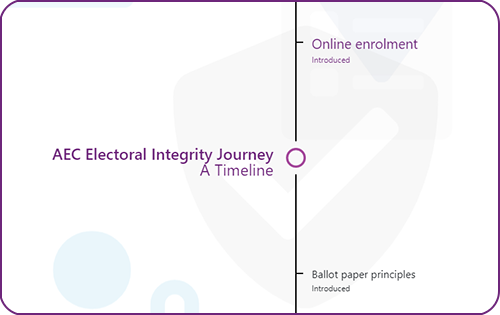 AEC Electoral Integrity Journey: A Timeline
The journey continues
Our vision: We are a leader in refining and delivering best practice in election management.
To fulfill this vision we, as the organisation charged with the responsibility to conduct Australian federal elections, must continually look not just to the next federal election but also what protections and initiatives can serve the Australian voter as we head to 2030 and beyond.
Much of the AEC's current work in modernising the way federal elections are administered will see service delivery efficiencies and backend safeguards incrementally introduced throughout upcoming electoral cycles.
Updated: 30 July 2021